SoHo to Get a "Mini-Lipstick" Building
| | |
| --- | --- |
| Posted: | 04/Jun/2007 22:40:00 |
| Author: | Gromco |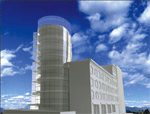 In place of a gas station, the lot at 140 Sixth Avenue (Sixth Avenue & Spring Street) may soon feature a new building designed by Anthony Morali. The building has already been dubbed "a little Lipstick" (in an obvious nod to Philip Jonson & John Burgee's "Lipstick" on Third Avenue and 53rd street).
The Downtown Express quotes Mr.Morali as saying that, in his opinion, the building (whose design features two structures of different heights and styles) will be "in the context" of the neighborhood.
The project also will include an environmentally-advanced feature: building-integrated photovoltaic collectors.
The required rezoning is expected to take about six months.
Sources and Links
Soho to get a little 'Lipstick' (downtownexpress.com)
Related neighborhoods